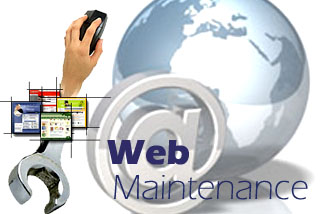 Matrix website maintenance services make free you and your staff to concentrate on your core organizational activities while your site is maintained and monitored by professionals. The text and graphics in your website is updated quickly so website visitors are always viewing the most accurate information about your organization and activities. Website maintenance includes revising, editing, or otherwise changing existing web pages to keep you up to date.
Websites are not intended to be static. The value of a website is the ability to maintain current information online at a reasonable cost. We assume that you will wish to revise some or all of your web pages over time, as well as adding web pages according to your organizational needs. To assist you in maintaining current information online, Matrix offers several options for your website maintenance.

Since your organization is not stagnant, it is important that your website reflects the activities of your organization. Maintenance contract can be monthly, quarterly or annual. A plan can be custom made to suit your needs. Typically maintenance covers the following activities:

Making regular changes to your website within the existing content structure.
Developing new functionality / adding new sections.
Highlighting different services / events on a rotating basis.
Detailed tracking of user behavior / viewer profiling.
Modification / improvements to existing contents / graphics on results of customer tracking.


We have the skill set to make your vision a reality. We guide you through the difficult decision making process, incorporate your input throughout the development process, and providing the necessary back end expertise to ensure that your site is reliable, scalable, and useful to your visitors.