web designing

Matrix Infosoft Delhi, NCR based Website Development Company offers Web Design Service for any kind of business or industry. Matrix Infosoft creative team spends time to understand your business and plans out a template. This template is then repeatedly refined with your feedback and inputs to make sure we give you what you like.


Matrix Infosoft keeps in mind while designing:


Your choice


User friendly


Professional & Appealing


Fast loading


SEO friendly


Subjective Color combination
.................



web development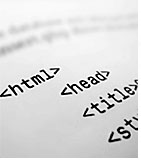 Web sites are now more dynamic than ever, users are demanding more features, and companies are scrambling to stay ahead of the competition. Shifting your order and supply systems from client-server architecture to web interface can bring many benefits, including easier access for clients better integration with partners and distributors, increased availability and very limited maintenance.


Matrix Infosoft web professionals will interact extensively with you to come up with the right design scheme for your website. Matrix Infosoft believes that your website is an extension of your business and should represent your company as close as possible.